[cycloneslider id="new-boats"]
Please find a selection of boats we sell, we will provide competitive boat package quotes to suit your individual needs.
Contact us for further details or to request a brochure, Tel: 01208 863396.
Quicksilver Boats
Life is now!
The award-winning range of Quicksilver boats, a brand from the Brunswick Boat Group, promises a world of style and innovative use of space made possible by the best in class length to beam ratio which also increases stability. A confidence further heightened by the deep V hull design creating a form that cuts through water efficiently and comfortably. A direct result of one of the most experienced naval architects in the industry being part of the team behind Quicksilver.
Quicksilver Activ Range
The Quicksilver Activ range combines fun and style with practicality and safety. Innovative use of space is achieved by the best in its class length to beam ratio which also offers stability. The Quicksilver Activ 675 achieved European Powerboat of the Year in 2011; Quicksilver Activ 645 Cabin was Motor Boat Monthly, Motor boat of the Year in 2012 with the Quicksilver Activ 705 achieving the Motor Boat Monthly award in 2013. The new 2015 805 Activ Cruiser is now in stock please contact us for details.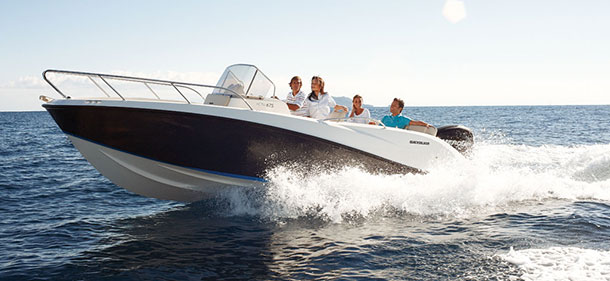 Quicksilver Captur Range
The Quicksilver Captur Range is the safe and reliable choice for fishing – offering everything from greater on-board space to true trolling capability. From day trippers to overnighters, these boats have all the power, comfort and practicality to get you out there. We will have in stock the Captur 605 & 675 Pilothouse.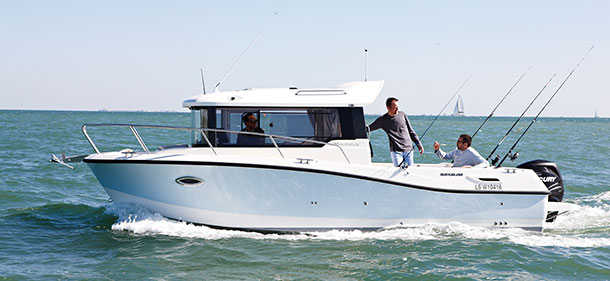 The Quicksilver range of boats have always perfectly blended fun and style with practicality and safety. The range of boats gives families, friends and couples the freedom of the water with an impressive series of boats. Please contact us for further details.



Antares – suitable for the family, seaworthy, safe and comfortable to live aboard, the Antares is a boat for relaxing and enjoying leisure activities by the sea, without any bother. The new Antares 5.80 outboard offers exceptional comfort and convenience for life at sea all year round. It's cockpit is deep and modular for fishing and cruising. There are many grab rails to make moving around the boat easy and safe.
Yamarin is a boat born to be a winner. It continues to charm and dazzle European boaters with its modern design, reassuring safety and delightful handling. From the successful model range you will find your perfect craft, whether it be a cabin boat or a day cruiser, a multi-purpose hard top or a sports boat with windshield, a sporty bow rider or any one of the popular console boats or open boats. Each model complies with Eu's recreational craft directives and international safety standards. There are no obstructions which get in the way when boarding or moving around the boat. All models are easy to control and steer, even for inexperienced boaters. When you combine traditional boat building skills with modern design and production technology, Yamarin is the result.
Thinking of a RIB, think Ribeye. For fun and exhilaration as well as for family use with safety paramount, Ribeye's really fit the bill. What a way to enjoy britain's beautiful coastline. Ribeye's are tough enough to race and beautiful to ski behind. A Ribeye is a perfect family boat. Ideal for swimming, fishing, beach-hoping, exploring or just picnicking. Or, if you are more adventurous and have the experience, speed over the continent. When Normal boats are confined to harbours, Ribeye's come into their own. They thrive on waves.
Valiant offer a wide range of Ribs to meet all customers needs and wants. Valiant Ribs are safe, stable, light , fuel efficient, easy to transport with muilti-chamber tubes acting as shock absorbers. Valiant Crafts are manufactured with highly industrialised process, guaranteeing greater reliability with consistent and uniform quality. Through design, planning and development with the most advanced techniques of CAD/CAM, production of the craft is automated and robotised in the main production stages. Advanced environmental controls for manufacturing of GRP, where applied high technology eliminated vapours and by-products.
Campion offer a wide range of boats including high-tech, high performance, sports utility, express cruisers, runabouts, stern drives, outboard, sports cabin, bow rider, closed deck wake and surf boats. With more than 37 models and 48 variations, no other North American boat manufacturer offers this kind of choice. Campion is a family run company and has been building quality boats for over 36 years.

We also have a great range of Seasearchand Sunsport Inflatable boats.
**2 year factory backed warranty**

SunSport Range

The SunSport range of inflatable boats are available in three models:
Slatted Floor Boat / All-Inflatable Boat / All-Inflatable RIB with Deep V-Bottom.
Ranging from 2.20 to 3.49m in length, the boats can carry up to 5 persons and can be powered by Mariner or Mercury outboards up to 15hp. These affordable, go anywhere boats are easy to store as well as being easy to transport and launch.
Features:
Carry Handles : There are our carry handles positioned to make the dinghy easy to carry for one or two people.
Rubbing Strake : The strake is designed to take the knocks and provide the best protection possible for the inflated tube and deflect spray downwards.
Well Equipped : All SunSport inflatable's come equipped with oars, foot pump, repair kit, wooden seat and manometer.
Seasearch Range
Features:
Bow Roller : The Bow Roller feature enables you to anchor wherever you need to, with an additional cleat handle inside the boat to tie off to.
Aluminium Floor : This anodised double thickness floor is light and durable thanks to its special cavity design. The ribbed patterning gives extra grip underfoot, whilst the sectional design make it easy to store.
Inflatable Keel : All SeaSearch dinghies feature an inflatable keel as standard. It gives better under power and better directional control at speed.
Rubbing Strake: The double thickness strake is designed to take the knocks and provide the best protection possible for the inflated tube.
Fuel Straps and Oar Clips: The fuel tanks tie down strap keeps the hose neatly to the side preventing a trip or fuel spill hazard whilst the oar clips let you store the oars when an outboard is in use.
Handles and Seating: Handles on the inside of the tubes incase of rough conditions. There are also non-slip reinforcement patches for seating and safety.